History of the Center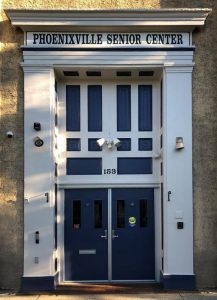 The Phoenixville Area Senior Center was founded in 1978. The First Presbyterian Church on Main Street rented space to the senior center for its program for 10 years. There it offered a daily luncheon and a few programs for adults over the age of 60. Space was limited, and as membership grew, it became necessary to search for a larger facility.
In May of 1986 an opportunity arose to purchase and renovate the Sacred Heart Social Center, a historic building ideal for a senior center. The building was conveniently located near the downtown business district and nearby residential area. Major renovations were needed both to the outside and the inside of the building. After the first phase of the renovations was completed, community volunteers helped to move the center from the First Presbyterian Church to our new building on Church Street. An Open House was held on October 30, 1988, to celebrate the opening of the new center and to allow the community to visit.
With the new facility, the center was able to increase its programming for seniors. Today, the center welcomes a culturally diverse group of people who spend time at the center involved in a variety of activities. The Phoenixville Area Senior Center continues its tradition to serve, support and enhance the lives of all senior citizens, by providing programs and activities designed to promote active, independent, healthy lifestyles.